Buddie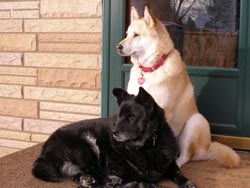 We want to Thank You for the gift you gave us, by giving us back our Buddie Bear as we had remembered her before her unfortunate injury, and disappointing diagnoses by so many. We knew she was inside that misshaped shell, but it was you who reached in and gave her back to us, she is the source of so much joy in our lives. This morning as I watched her play with Ebony Bear in the fresh snow like they did so long ago it so touched me and brought me to tears. Again Thank You for your vision and skill, keep up the great animal chiropractic work. We rejoice in your success!
Take Care,
Buddie Bear Wolf's Humans – Sue F. and Elaine R.

Lilly and Nellie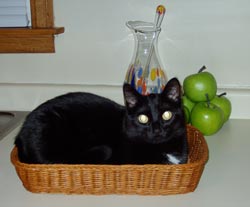 Lilly loves to jump in the windows and look out at birds and squirrels in the yard. Her food dish is also on the counter to keep out of reach of Nellie. I noticed when Lily jumped she would be a little short and would end up hitting one or both of her back legs on the ledge and would lift herself up. After seeing Dr. Josee Gerard, she was like a little kitty again. She was jumping around the house and clearing the ledges. I could tell she felt so much better. It was so nice to her be so happy.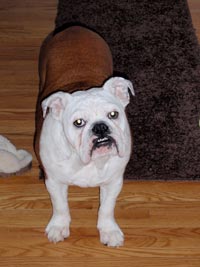 Nellie is a little puppy bulldog who is rather clumsy. She sometimes falls going up and down the stairs, trips on her feet, and other puppy spills. I thought it was important that she be at her best mechnical function during her growing stage. She is also prone to different health problems. I brought her to see Dr. Josee to try to help prevent some of those health issues and keep her body functioning at its best. When Nellie got home from her treatment with Dr. Josee, she totally relaxed and took the nicest, longest nap. I like being able to know that my little puppy is being taken care of by such kind and gentle hands. Thank you for everything Dr. Josee!
Jeni S.

Dakotah
Hi Dr. Josee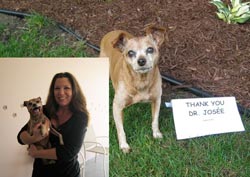 When Dakotah first came in, he couldn't walk without falling, his back legs slipped out from underneath him, he couldn't wag his tail and had experienced loss of bowel and bladder control. He had to be carried everywhere. The exam revealed a dip in his lower spine that affected the nerve signals to his legs, tail and bowel/bladder. After several treatments, the spine no longer had a dip, and Dakotah started to regain the use of his legs. Now he is chasing bunnies aagain and able to go up and down the stairs without assistance. He no longer needs help to go potty either, and he's now spunky, wags his tail, and 'smiles' a lot.
Thank you Dr. Josée!
Debbie E.

Chisum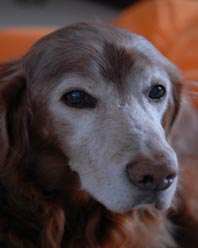 We suspect our Irish Setter fell down a flight of stairs when he was twelve. He was limping, walking with an arched back and putting more weight on his left front leg. Our veterinarian examined him, took X-rays and consulted with a local university. In the end, nothing definitive was ever determined and two years passed before I picked up a pamphlet on Animal Chiropractic care.
Dr. Josée Gerard, DC examined Chisum at the Valley View Veterinary Hospital in St. Croix Falls, Wisconsin. She relocated his right front shoulder and aligned his spine which immediately restored puppy like energy. When we arrived home he bolted over to greet the neighbor which was something he hadn't done in three years. It was hard to believe it was Chisum we were watching. Chisum will soon be sixteen.
We've continued with periodic adjustments ever since. Chisum so enjoys his visits with Dr. Gerard that after entering the office he's been known to walk backwards towards Dr. Gerard and self positions himself for the adjustment.
Dr. Gerard has taught us strengthening exercises, how to check for inflammation, when to ice affected areas, etc…simple things we can do at home that extend the time between visits. We believe animal chiropractic care has added years to Chisum's life and is the reason why he now runs around like a dog half his age.
Gail & Steve K.

Nala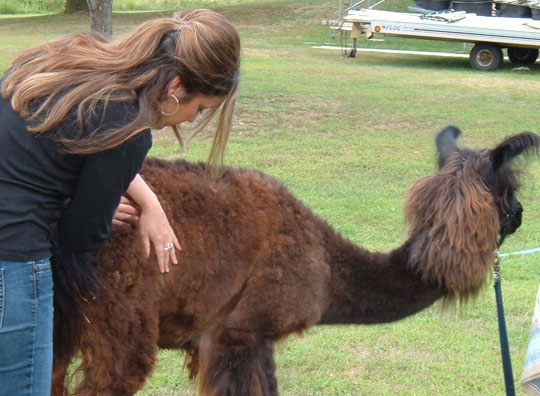 Nala, the llama, had contracted Meningeal Worm, a spinal virus which led to the partial loss of use of both back legs. Her condition was treated with traditional veterinary medicine, including U of M specialists, but did not improve. After 6 months, Nala's leg muscles were severely atrophied and all types of treatment had been exhausted.
Before deciding to euthanize, we tried animal chiropractic care as a last resort. Nala's posture improved after the first adjustment, she's now able to stand up straight and is walking with an improved gait. Her back leg muscles grow stronger every day, and she's able to run and play with her other llama family members. Animal Chiropractic "saved her life", when all other therapies had failed. Nala is looking forward to a long active life!
Many Thanks,
Vernette K.